Madeline has been taking care of my pets for over 13 years. She IS a member of the family and the person I trust most.  As someone who travels a lot, knowing she is with my pets has completely removed any burden of stress I might have felt about being away from home. When I return it is clear that my four-legged family has been exquisitely cared for by the way I am greeted and the condition of my home. My pets are happy, healthy and calm.
Our boys (2 rat terriers and 1 Chihuahua mix) look forward to Madeline's, Kim's or Annette's visits. We can't thank you enough for what do. Our boys are our life and we know that they are in good hands when they are with you guys.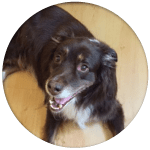 I can't recommend Paws & Claws Sitters highly enough!
Madeline and her team have cared for my dogs for more than 7 years. They take loving and compassionate care of my elderly dogs, delighting in the joy the dogs still have for life. They cared for my chronically ill large lab, Max, to the point where we were together at the vet's office when that time came. They've taken my foster dogs in stride, when the dogs might be there for one or two visits and not another. They love them all and I've seen how excited my dogs are to see them.
I can vacation without having to wonder how my pets are doing. Paws & Claws is reliable and trustworthy, spending time on activities my dogs like, such as playing fetch, walked, being petted or brushed, talked to, fed, pottied. Medication is given on time and any changes to the schedule are noted. If there's a question, I get a text, email or phone call. When I've been detained at work, they've added my guys into their schedule on short notice. It's nice that they'll bring in the mail and water plants, but my main focus is on the excellent job they do in keeping my pets happy and safe.
I can't imagine having anyone better at keeping my present dogs — California and Emma happy. All the P&C employees have been wonderful! My dogs love to see them.
We have had Madeline's Paws & Claws Pet Sitting, as our pet sitter since 2010 when we had 2 parrots.  It was not easy to find someone who we felt comfortable about leaving in our home and caring for Ziggy and Sunny.  We have found them extremely reliable, trustworthy and professional.  You can tell at the first interview that they care and take an interest in your pets. We have since added a cat to our family.
Madeline handles all this and also gives you other extras upon request, such as bringing in the mail, turning lights on or off, she even watered our vegetable garden in the heat!!  Even during snow storms they got to our house and put salt on our walk and driveway. This is the kind of marvelous service you can expect from Paws & Claws.  They also leave very detailed logs of their visits and interactions with your pets. There is no guess work, you know exact dates, times and what went on.  I love reading about the visits and the reactions of our cat and parrots.  Services are very reasonably priced.  As you can see we do not hesitate to highly recommend Madeline and her staff!!